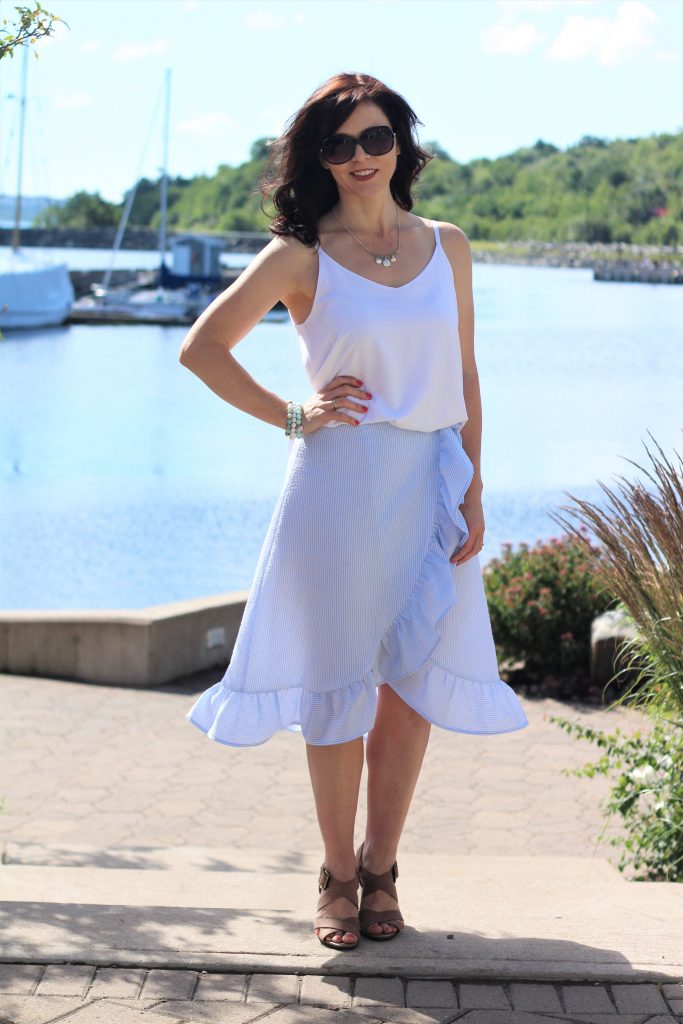 Here I am back with another post! I feel like I'm on a roll…. My daughter, Emmy indulged me in another blog post photo shoot and I took full advantage of the time by shooting four outfits in just over an hour. We are getting so quick at this now!
When I started looking over the pictures, I realized that the next four posts could make a mini collection. They all have a similar "look". And I really love each piece… a lot. Could this be me starting to narrow down my fashion aesthetic or is this just the flavor of the month for me? Who knows?!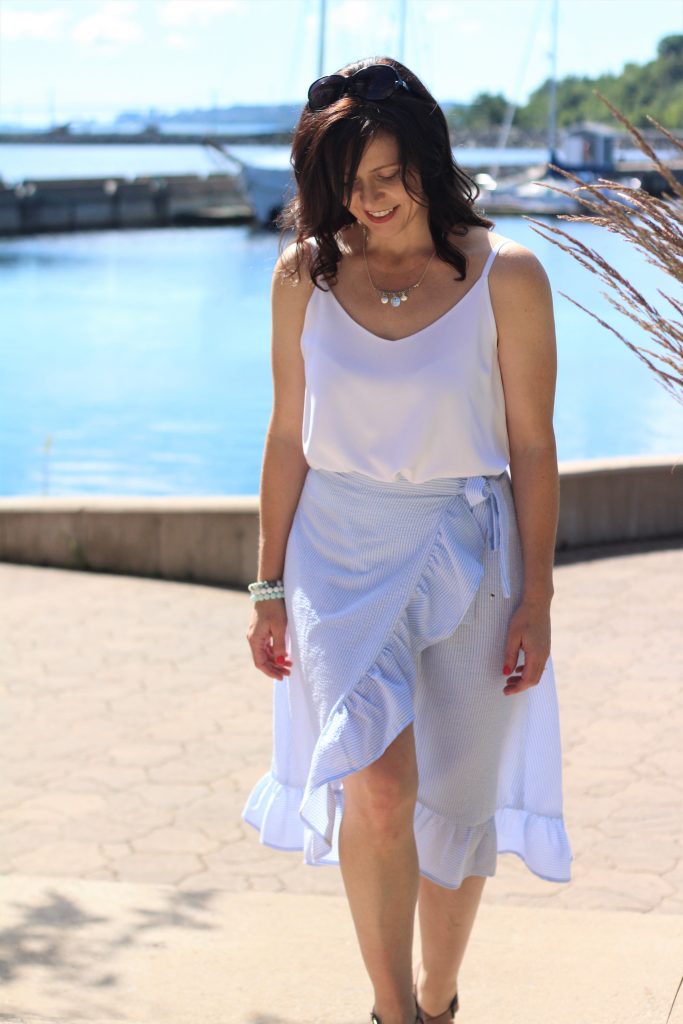 The top pattern is the beloved Ogden Cami by True Bias. Where have I been on this one?! I am always late to the Indie Pattern party…oh well.  I love this little top so much that I have made a total of six! I made this white rayon one just before meeting my daughter to take these pictures. They are so quick and addictive to make!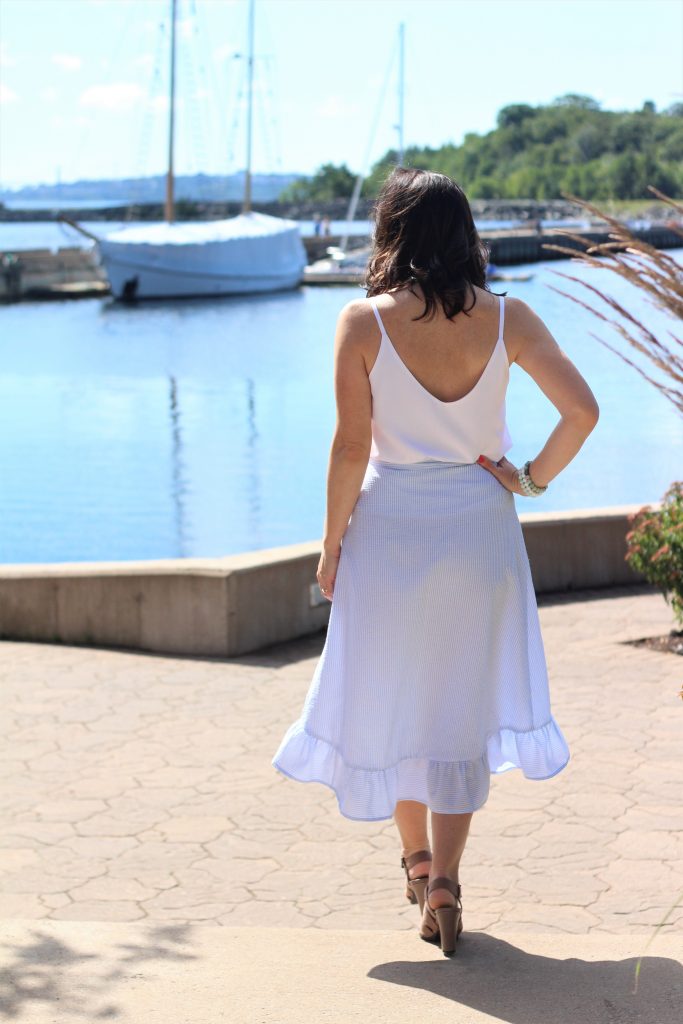 The first one I made was a bit too big and the straps were an inch too long. So I went down a size and shortened the straps to get the perfect fit. I highly recommend this pattern and can't wait to share the others I have made but I'm trying to refrain from sharing until I have made bottoms to go with them…I need more bottoms.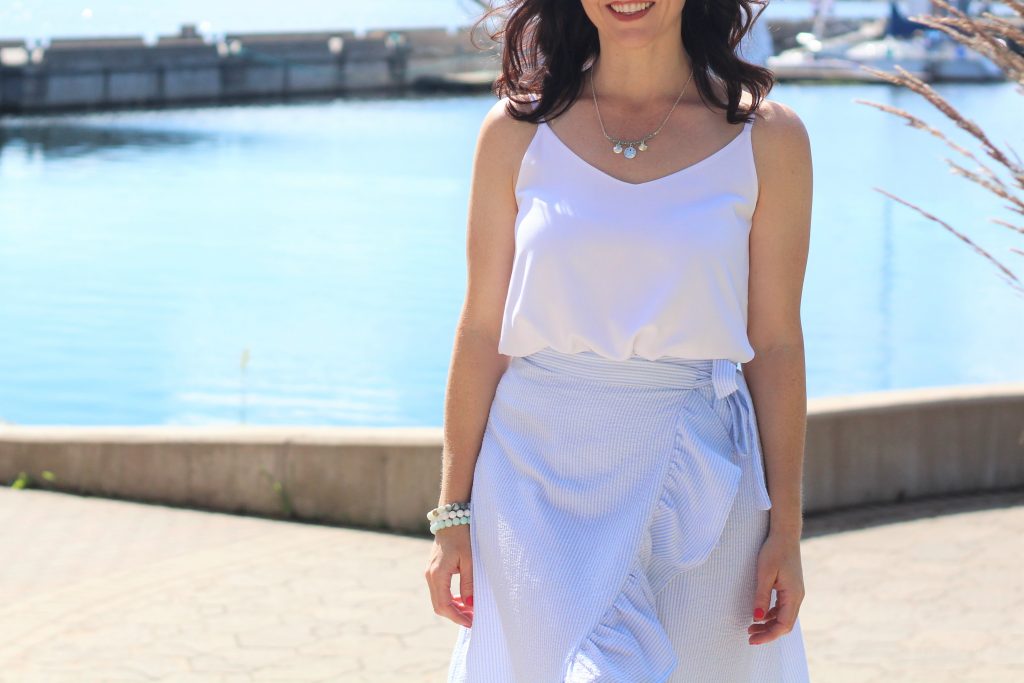 The skirt is M7606, a wrap skirt with side tie and ruffle. The pattern includes an off the shoulder body suit and a longer skirt without the ruffle. I made view C in a pale blue and white seersucker.
Seersucker is the fabric of summer and the fabric of babies…I always think of  little baby rompers, sundresses and I can almost smell baby powder when I see seersucker at the fabric store. I think that it gives this ruffled skirt a fresh and playful feel for me.
This pattern is a super easy pattern to make… I didn't make any alterations to it but I did decide to underline it with a light cotton silk. I would suggest that you cut out one more panel (piece 8) of the ruffle because I found the ruffle a bit too sparse and would have liked it to be a bit longer…so it went up the skirt hem a little farther.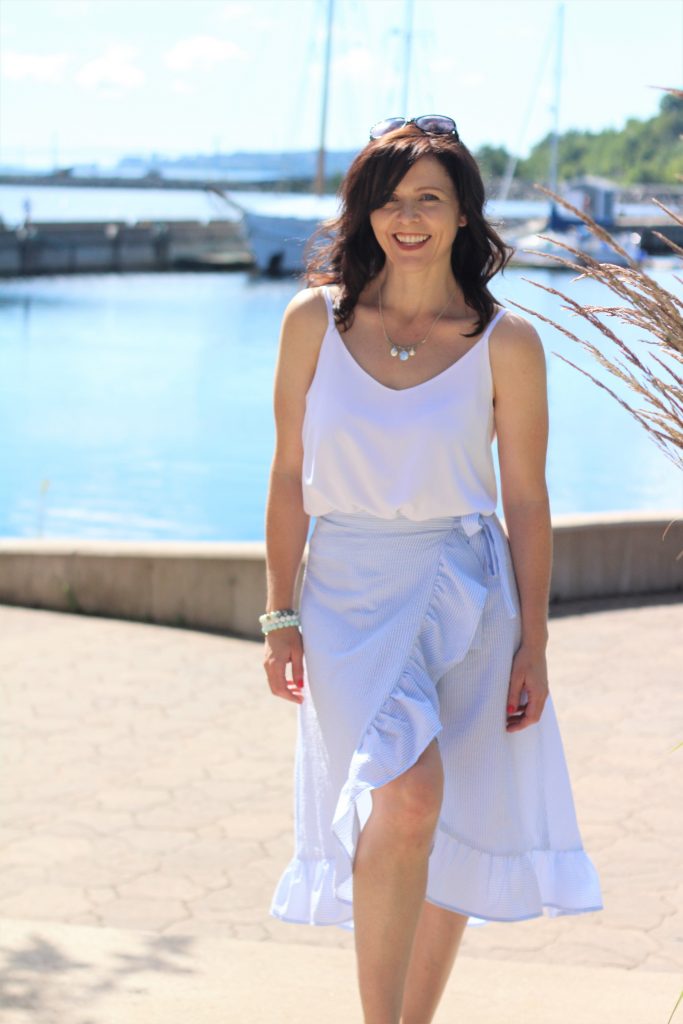 My memories and clothes are so closely tied that it's probably what prevents me from purging my over stuffed closets! Anyone else have memories or feelings tied to your clothes? Do you smell baby powder when you see seersucker? Or is that just me?