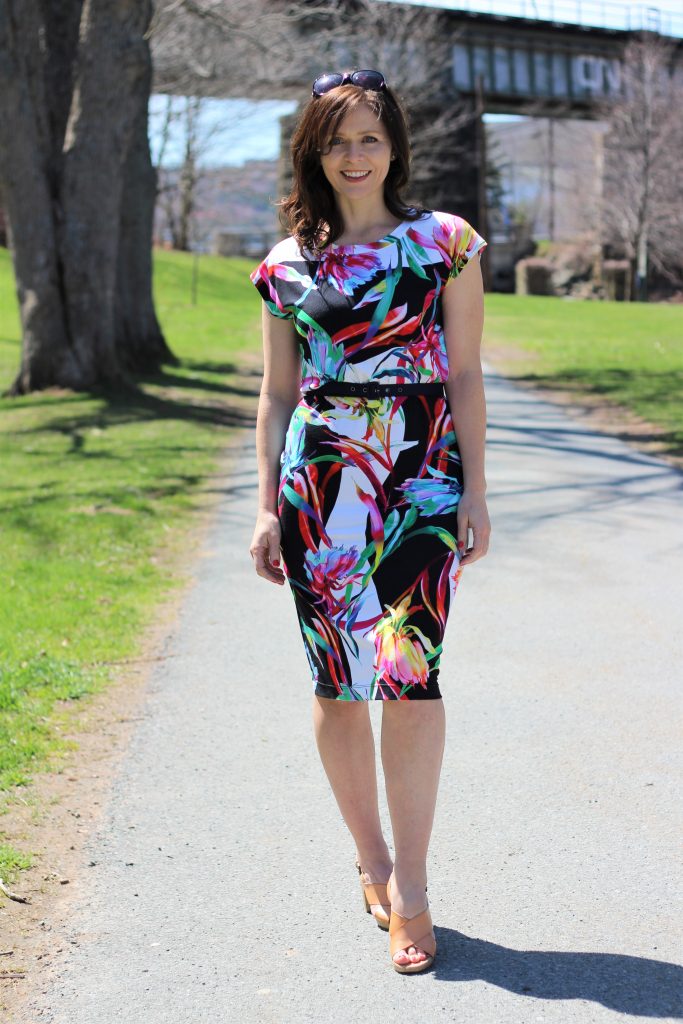 Ok. Let's have a go at this blogging thing again!
I've been sewing quite a bit and I'm excited to say that I have sewing a lot of knits! I haven't always been a fan but I'm gaining confidence and getting better at using my Janome Coverstitch. It's about time!!!
McCalls 7465 has been in my stash since it came out and people….. I AM IN LOVE. It was super quick to make and when I can get a cute dress out of 1.3 meters of fabric!! Well….. you know that I'm going to do bust some stash with this one.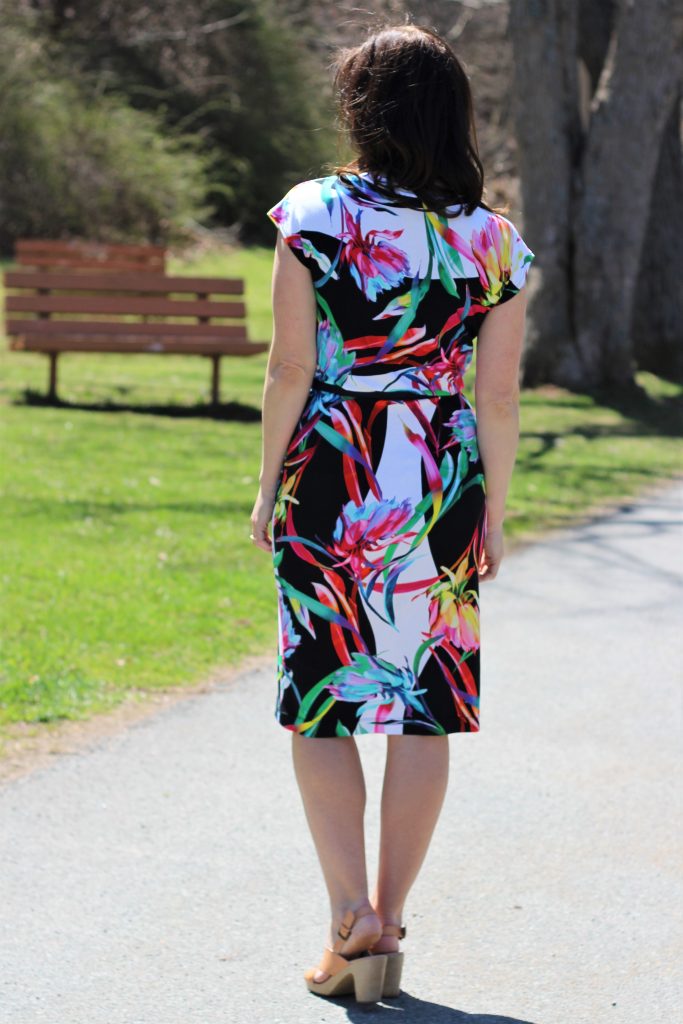 I found this knit at Fabricville for $4.99 a meter and though the content is "unknown", my guess is that it has some rayon in it. It's nice and spongy… and the colors…well. Amazing.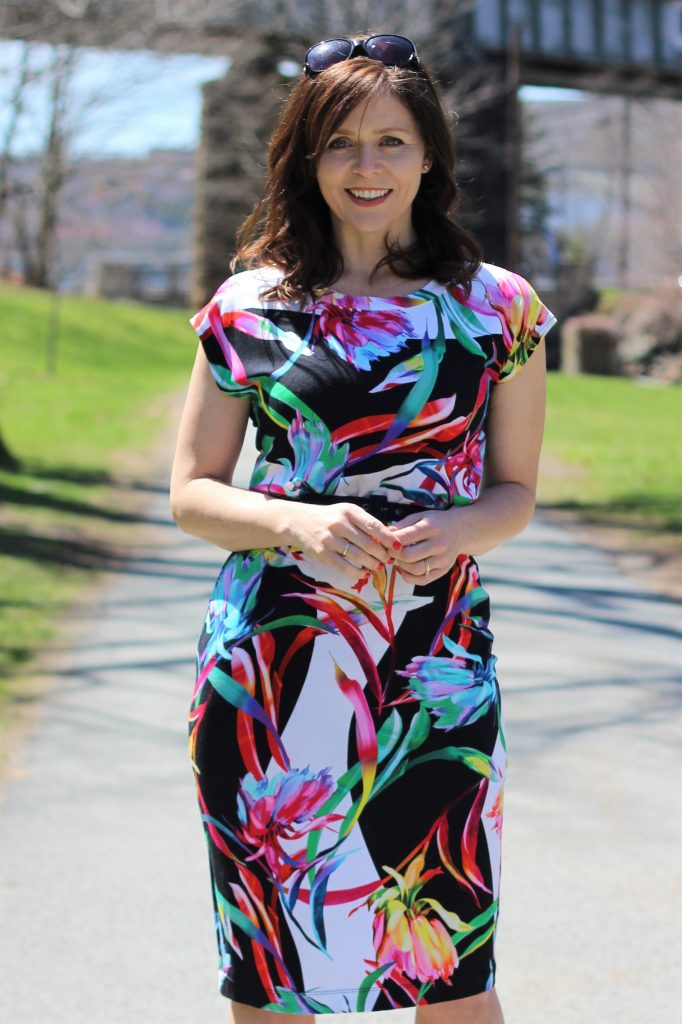 The print has a wavy stripe that I had to think about before I cut out. I decided to run the stripes vertically on the skirt and horizontally on the bodice…and I like how it turned out.
For this version, I followed the pattern exactly. I made View C with the longer length. It went together nicely and I like the band on the neck. It has an elastic inserted into the seam allowance of the waist seam. Again…easy peasy.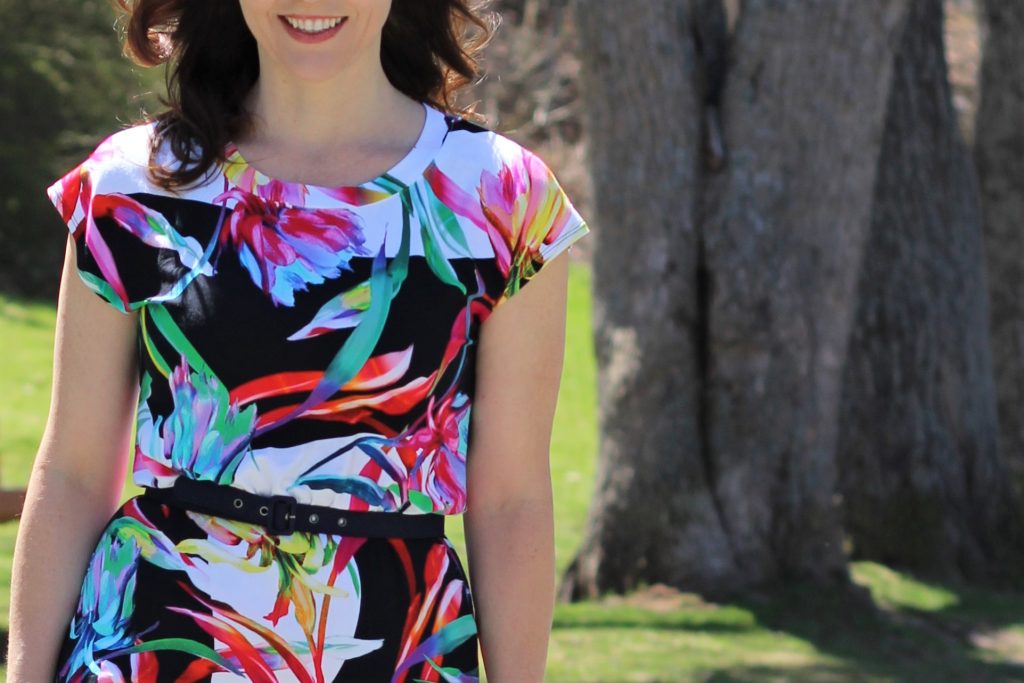 My next version, I love. Obviously….. because it's blue and white and it's striped! All my favorite things.
Though I like the band on the neck line, I thought that I would try a different neckline with this heavier fabric. It is a heavier polyester textured knit. I was concerned that this knit would be kind of bulky so I used the neckline of Simplicity 1690 as a template to draft a new one.  The result is a slightly higher and wider…almost, boat neck shape. I think I may make it even higher and wider next time.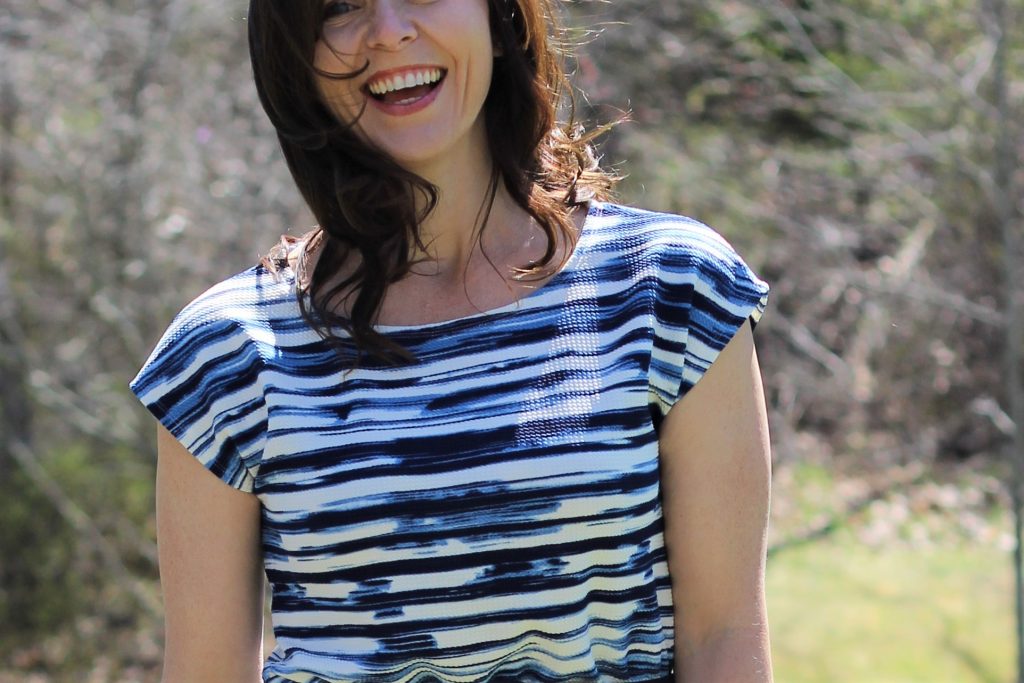 I simply turned and hemmed the neckline using my coverstitch. Making this small change to the neckline made this dress even quicker to make!! Bonus!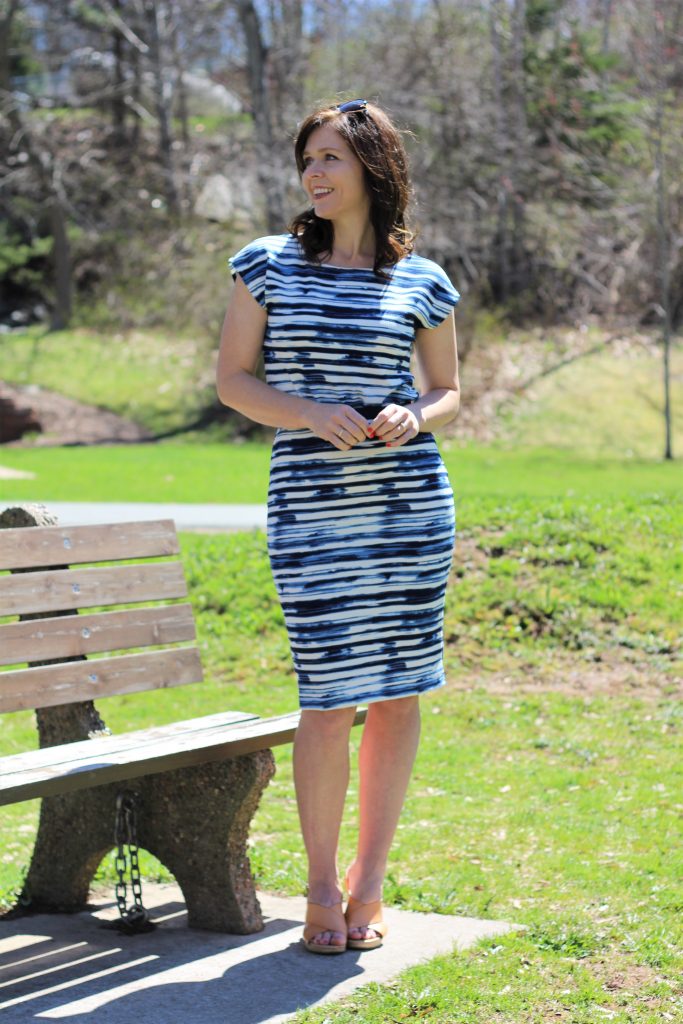 So for me, I think that the key to this pattern is that the weight of the knit I choose will determine which neckline I will go with. For lighter knits, I like the band, and for heavier weights, I like my hacked version.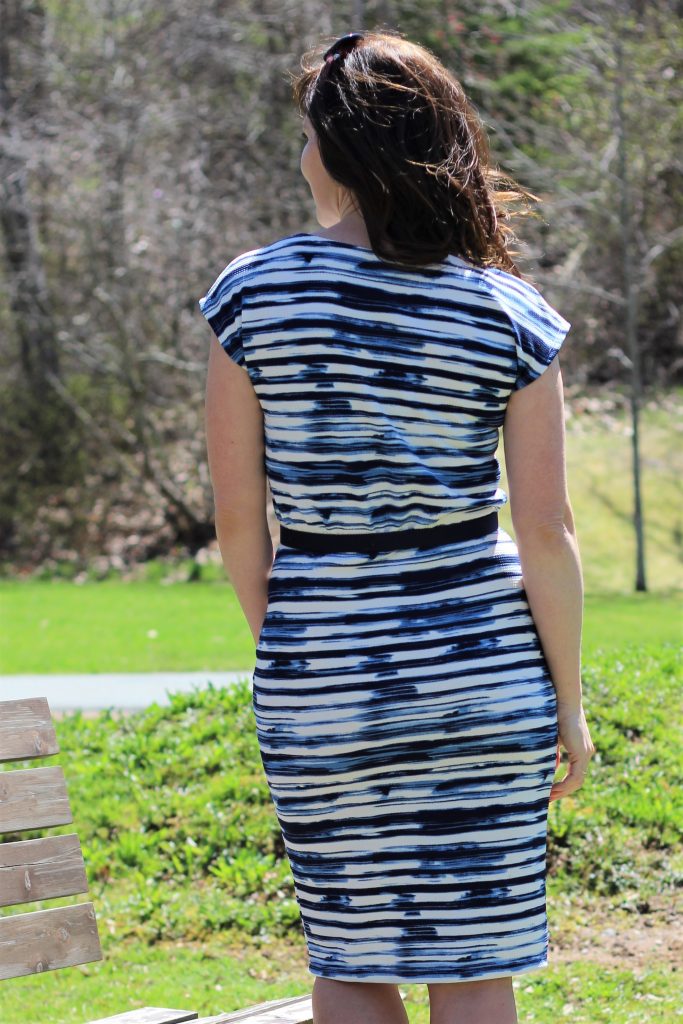 This will be a TNT pattern in my repertoire. I'll be scouting the remnant bins for small pieces to make this dress and yet… I could also fork over a bit extra for a nicer fabric since so little is needed.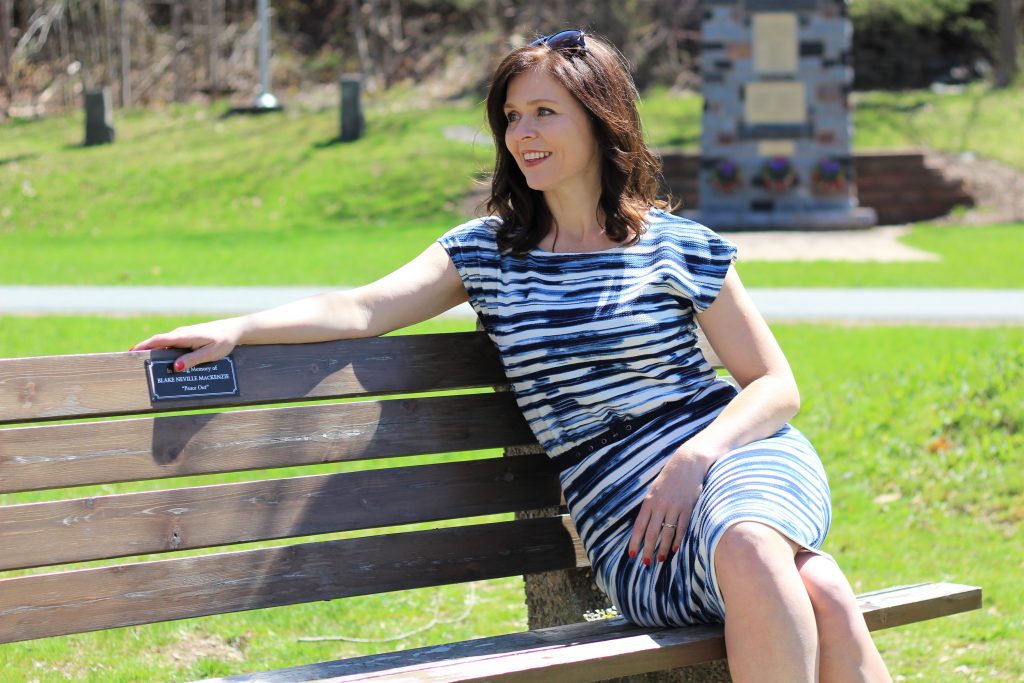 Can you tell that I love this pattern? I want to make so many of them! Do you have a favorite pattern that you just make over and over and over again!?