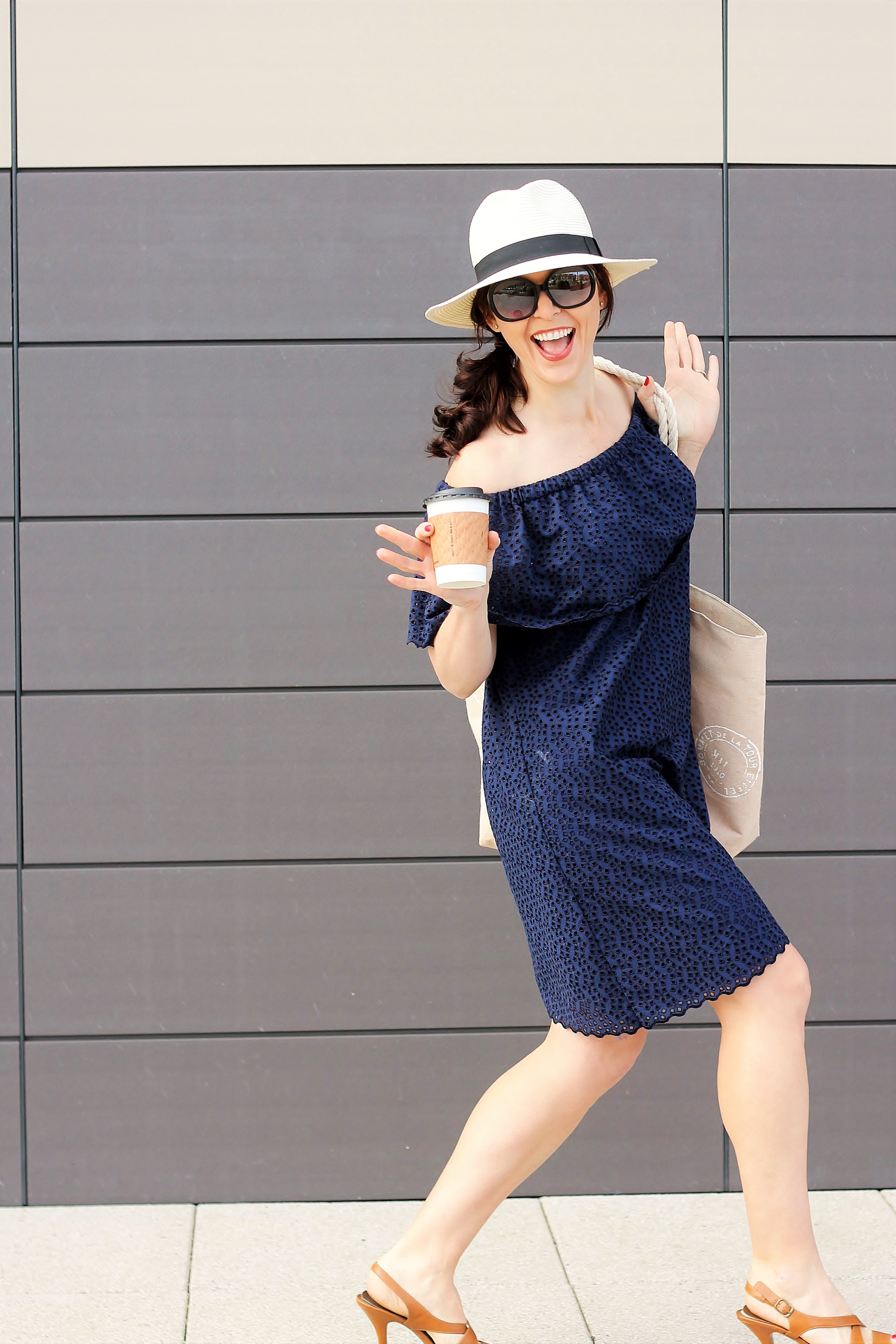 It seems as though the "off the shoulder" look is THE trend of spring/summer 2016. I'm seeing this look everywhere! I wondered…do I dare? The answer was loud and clear…Yup!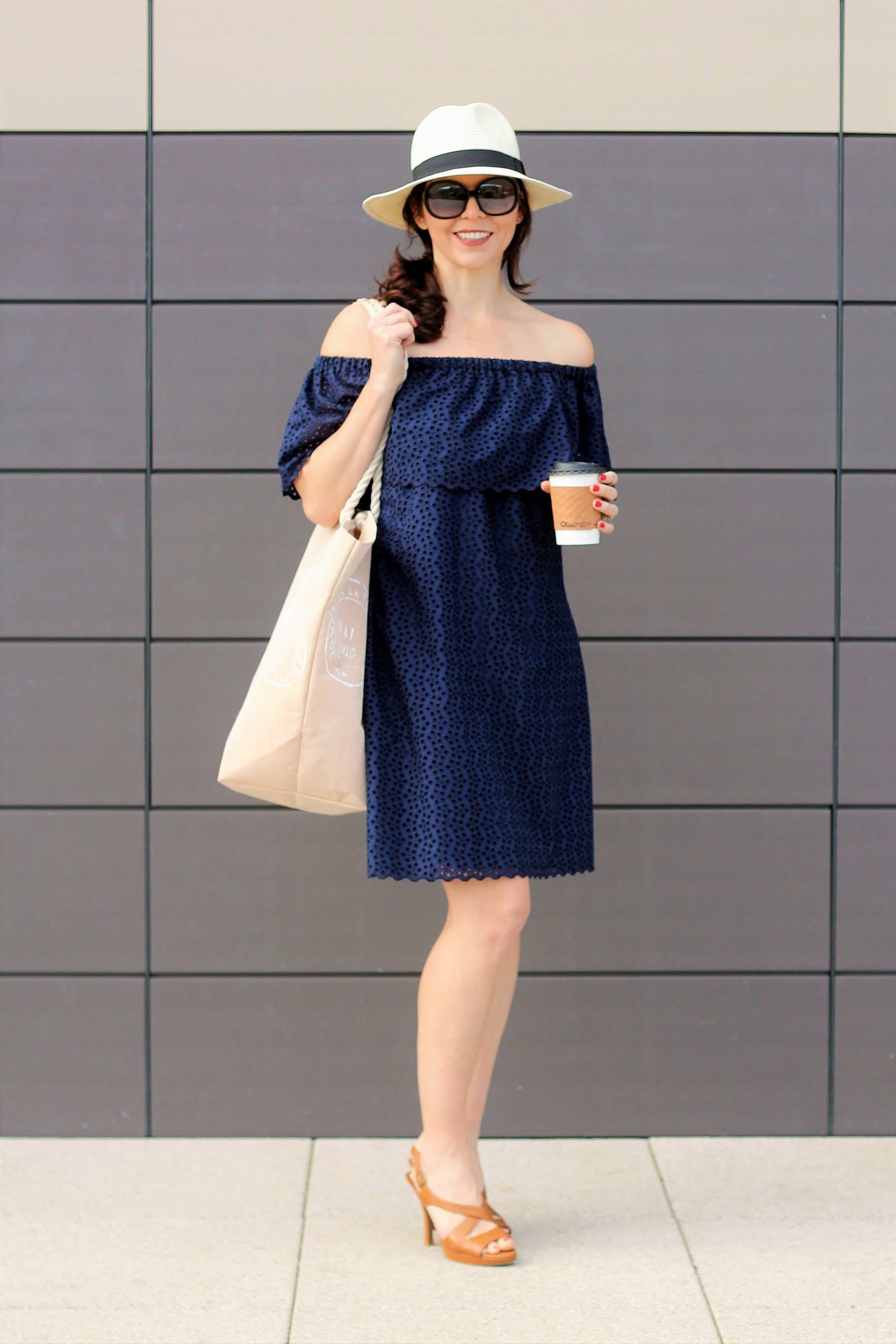 I made this cute little dress using M6558 and some fabric I had left from this cropped top. I always liked this fabric and was saving the rest of it for a dress and thought that the scalloped edge it has would work really well for the hem of the ruffle and bottom hem of this dress.
The fabric is a bit on the heavy side so I thought that it would look better without the elastic waist and I shortened it significantly to balance out the volume.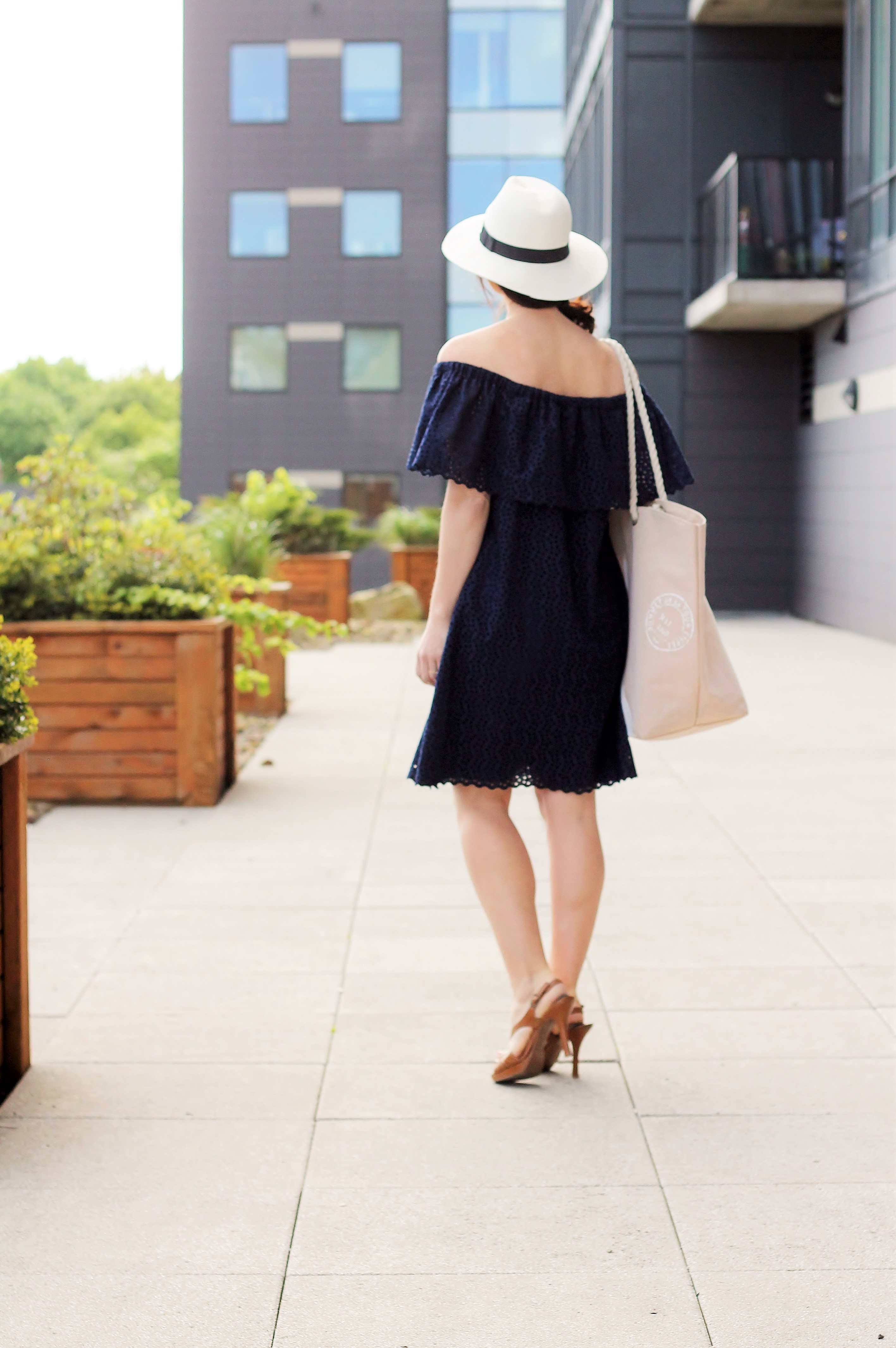 Pattern: McCalls 6558
Fabric used: A poly blend..??…navy eyelet.
Instructions:  I didn't follow the instructions…due to the changes I made to the pattern.
Changes I made: Using the pattern pieces for View B,  I cut out the ruffle using the scalloped edge for my hem. I then joined the bodice and skirt pattern pieces together, overlapping the seam allowances. I measured the length I wanted the dress to be and cut out the front and back pieces to this length, again using the scalloped edge for my hem. My fabric needed to be lined so I used my new front and back pieces to cut out my lining. I stitched the side seams for both the eyelet and the lining. Then put them one inside the other…right sides together and stitched the armscye….matching the side seams. I clipped the curves and turned the lining to the inside. I found this to be the easiest and neatest way to finish it with a lining. I then followed the instructions for the ruffle attachment.
Repeat worthy? Yes!! I really love this dress and Hubs likes it so much that makes is repeat worthy.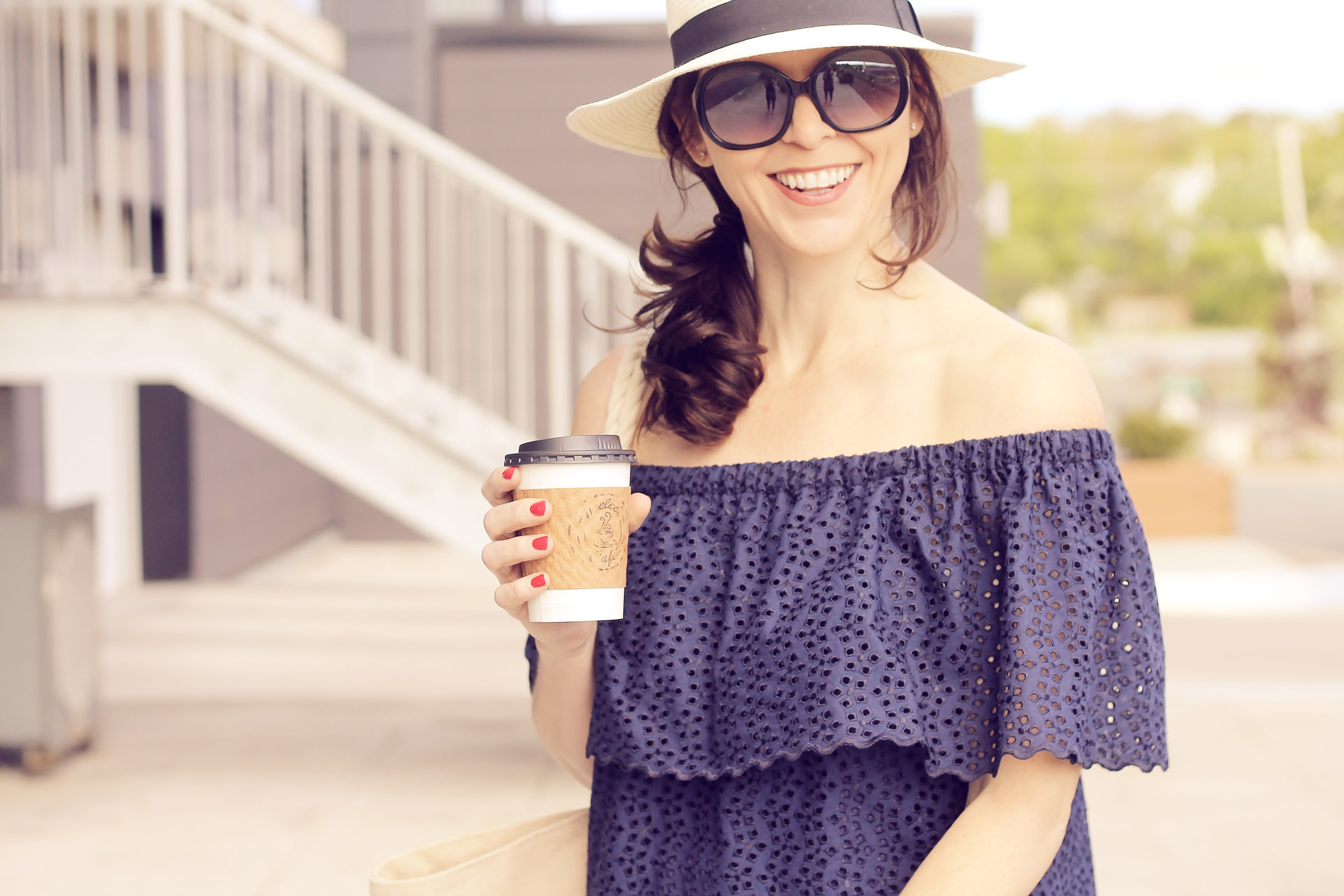 I want to thank my daughter…now back from school…YAY!… for taking these pictures. I felt like a real life Blogger..all fancy with my Chai Latte in hand. It was super fun to take pics with you and you made me look goooood! Thanks!!
Photos courtesy  of  Bergman Photography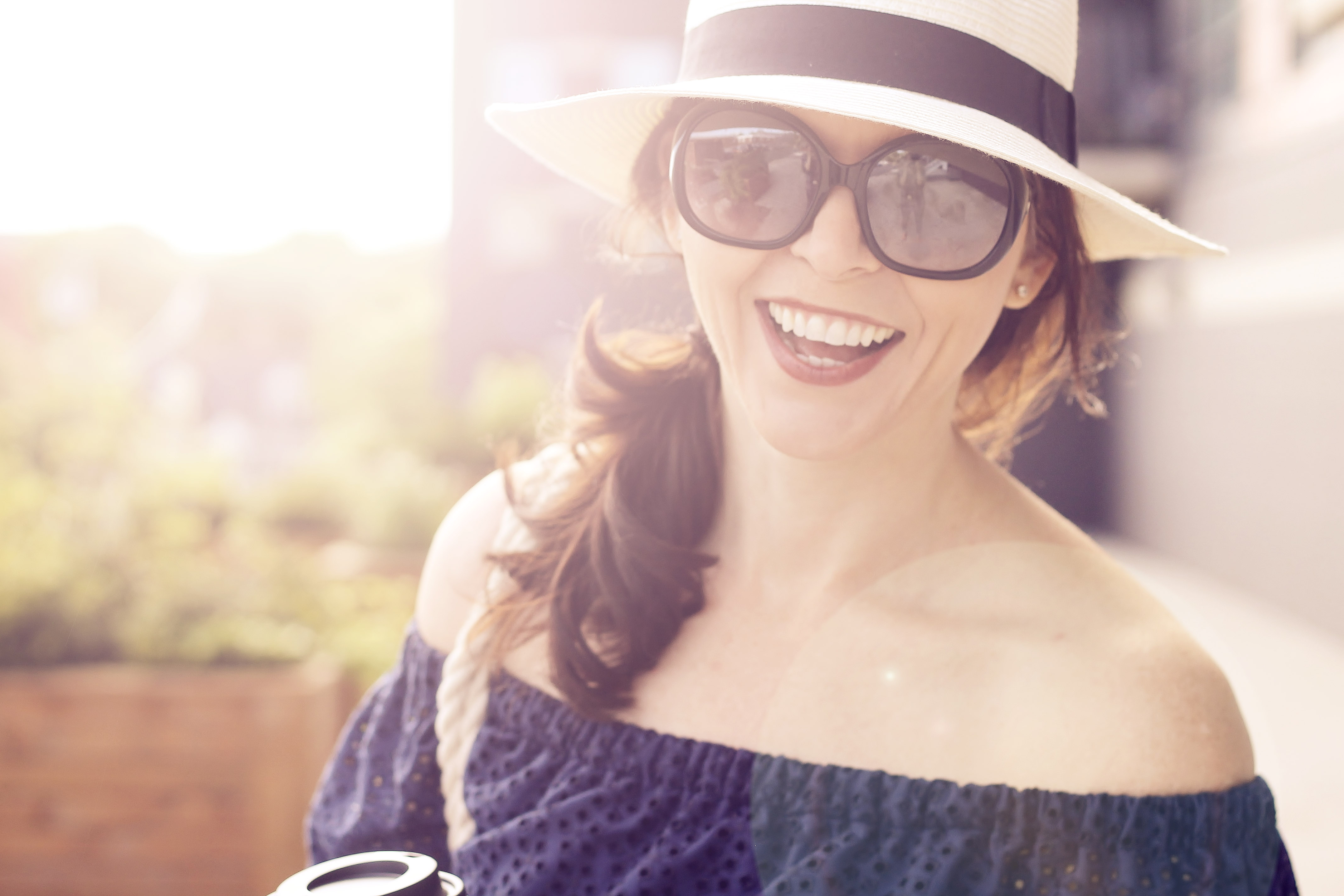 So…what are your thoughts on this trend? I personally love it and I think it works really well in this type of dress silhouette….will you dare to give it a try?