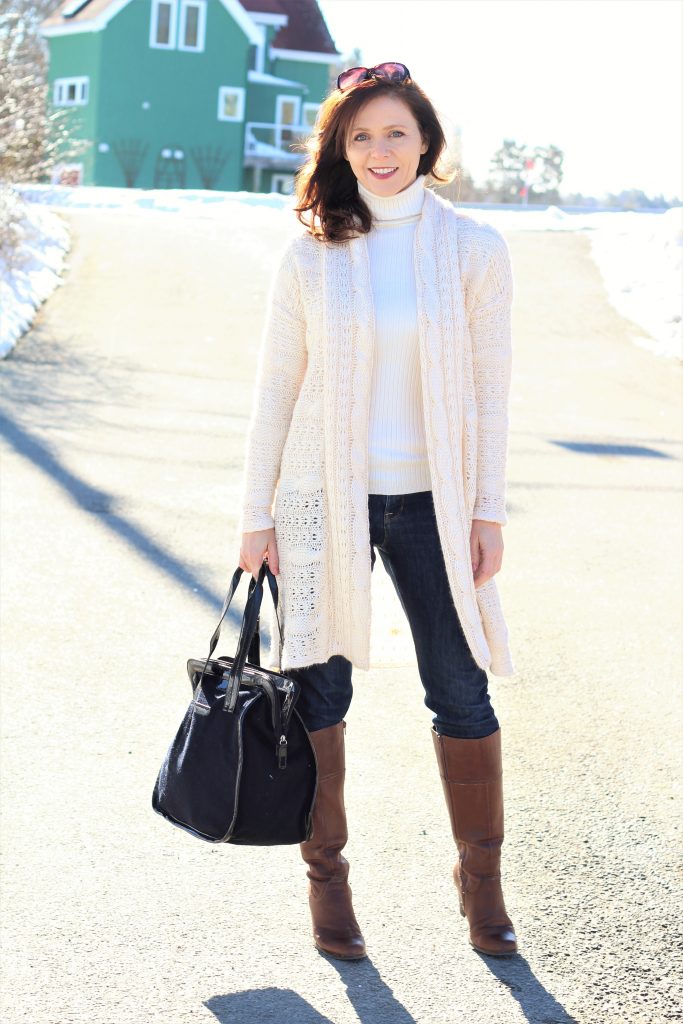 Hi there! Soooo….not sure how that break from blogging turned out to be so long but I was still doing some sewing. Always getting some sewing done…somehow. My Mom always asks me, when do you sew? I dunno. Here and there…
If you follow me on Instagram, you already know that I posted this cardigan on Califabrics blog but I thought that I should post it again here because well….this is where I document all my makes. So, I apologize if this is repetitive for you.
Doesn't this sweater look hand knit? Kinda?? I wish I could knit something like this but I know my limitations and fortunately discovered that there are knit fabrics out there that can give me a great looking cardigan without the time and skill involved that …let's face it….I just don't have!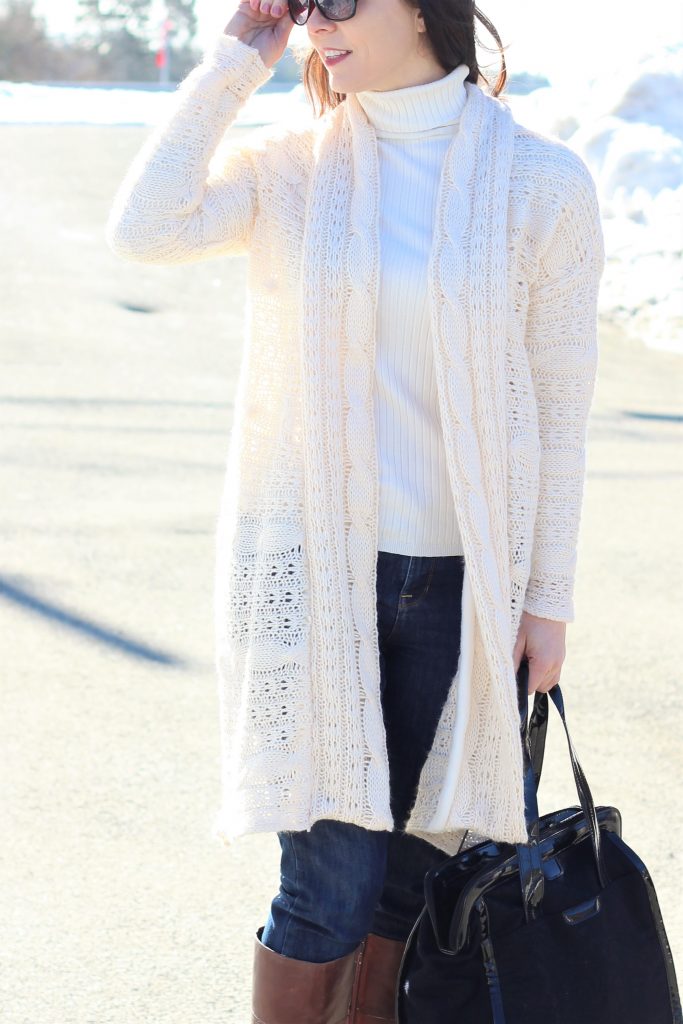 Becca from Free Notion made a gorgeous Toaster sweater from this same knit and wrote about its tricky nature. Her tips are spot on!! She put together a fantastic post…so go read it!
The big difference between Becca's use of this knit and mine is the direction of the cables. she put hers vertically which gives it nice stretch and movement around the body. I put mine horizontally. I did this because I wanted a really long cardigan and by the length stretching downwards, I was able to achieve the length I wanted. Making an open cardigan meant that I didn't need much stretch around the body.
Had Helen's new Blackwood Cardigan pattern been out at the time I made my cardigan, I would have used hers…. but it wasn't…so this pattern is McCalls 7476 with a collar change. Instead of the shawl collar, I used a folded over strip of fabric and stitched it on the full length of the neckline to hem. I only wish I had had a bit more fabric to place the larger cable in the center of the band….but otherwise I love the finished look. I  finished the seam of the neckband by binding it with soft fleece. I also cheated on the sleeve and bottom hems by cutting them on the selvaged edge. This isn't really cheating is it!??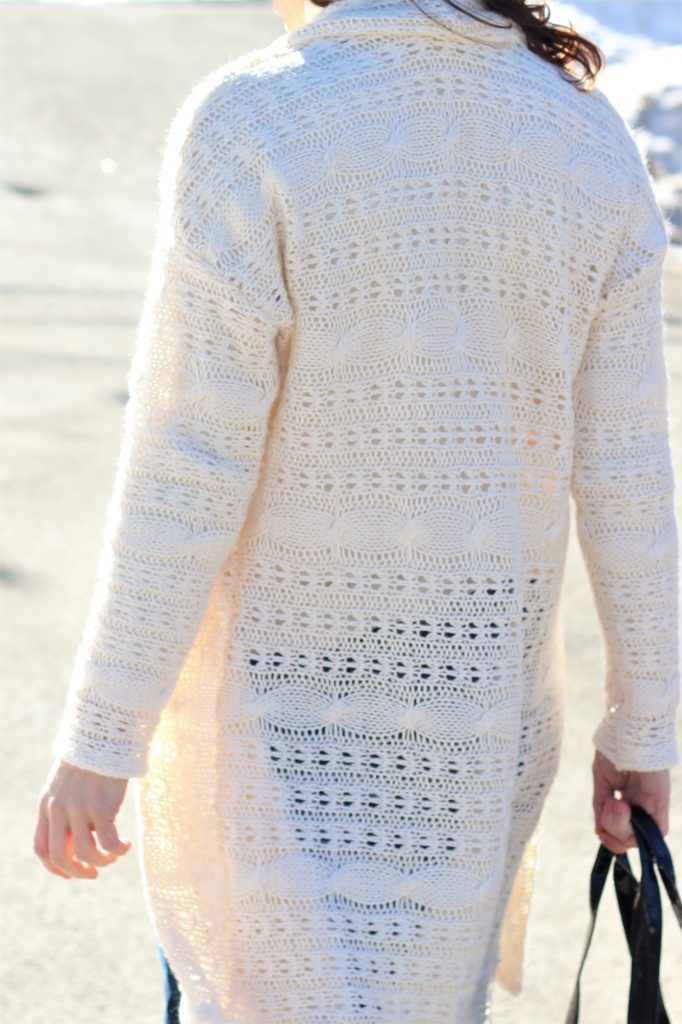 Here is a shot of the back that shows the loose weave of this knit, making it suitable in the spring and summer as well.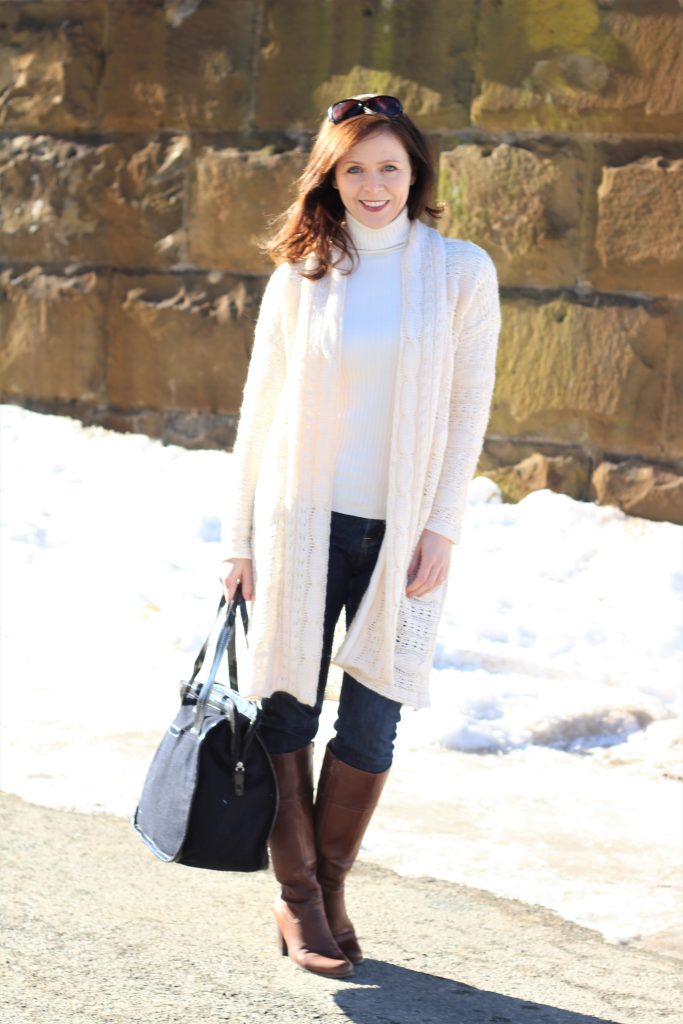 I have worn this cardigan many times already and it is super soft! This is the ivory color but I also love the red. It's true that it is a bit tricky to work with but not impossible and totally worth it.
This lovely knit fabric was provided to me as a blog contributor, free of charge by Califabrics.