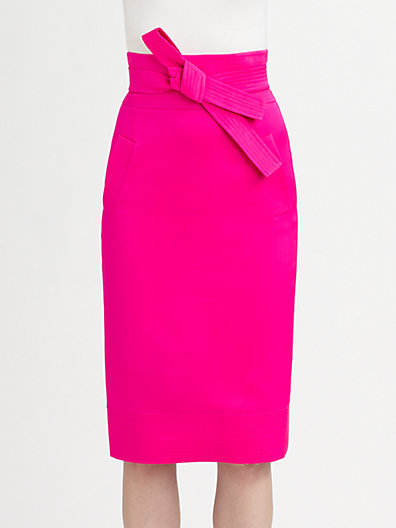 Oscar de la Renta  Tie-belt Pencil Skirt  (source)
See this knock out of a skirt…. it's only gonna cost ya $1200 bucks. Peanuts really. Ha! I have been pinning pink skirts on Pinterest to my DIY board, wanting to make one for spring and summer and when I saw this one…I knew I could make my own knock off version of it! Keep in mind that the Oscar original is surely made of fine Italian wool and mine is a stretch sateen and will probably wrinkle like a bugger…but my price tag of 12 big ones wins with this thrifty gal.
To make the trapunto band, I cut a 7 inch strip of fabric, long enough to fit around the entire circumference of the hem.  I then folded it in half, wrong sides together and pressed it.
To achieve a nice quilted effect, I cut a strip of low loft quilt batting 3 1/2 inches wide and just as long as the strip. Lay the batting inside the folded band, tucking it tightly into the folded edge.
Starting with the folded edge on the right, I topstitched the band at 1/2 inch intervals. To keep my lines of stitching straight and even, I used my quilting guide. Be sure to measure from your needle to the guide, not from the edge of the presser foot.
After I followed the directions of the pattern to sew the body of the skirt together, I stitched the band to the bottom of the skirt before sewing the back seam.
As you can see here, the quilted band I made was longer than I needed, so I trimmed it to match the back seam lines and then stitched the back seam.
Here is the back seam from the inside. I often like to serge my seam allowances in a different but complimentary color. It saves me from buying so many different colors of serger thread that in the end I may not use.
Here is the back seam from the right side. I was pleased with how the seams and quilt stitching lined up. Now, I don't have pictures of the next steps but I followed the same steps for the waistband and added an invisible zipper. I also made a quilted sash belt that gives the skirt the finishing touch. I'm so pleased with this knock off project. This post was so long, I  will share the finished skirt in the next post…stay tuned.