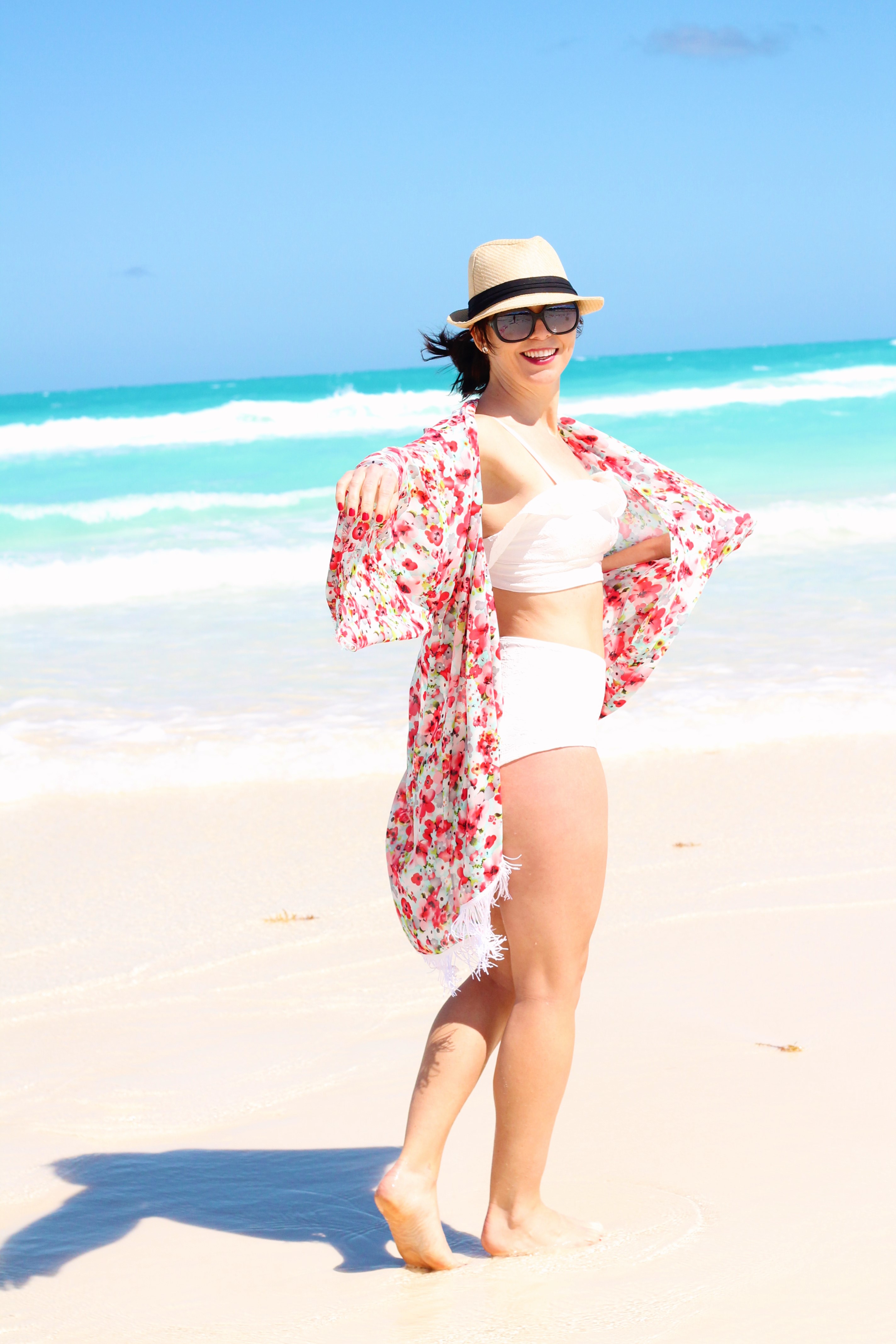 Look who's back with a shiny new blog! Eeeek! I'll  share more about it at the end of this post.
Nothing shortens a long winter quite like a trip to a beautiful beach. I was blessed to take a three generation vacation with my Nanny, Mom and sister! So of course, I did some sewing for the trip…right up to the last minute… of course. New swimsuits and cover ups were at the top of my list.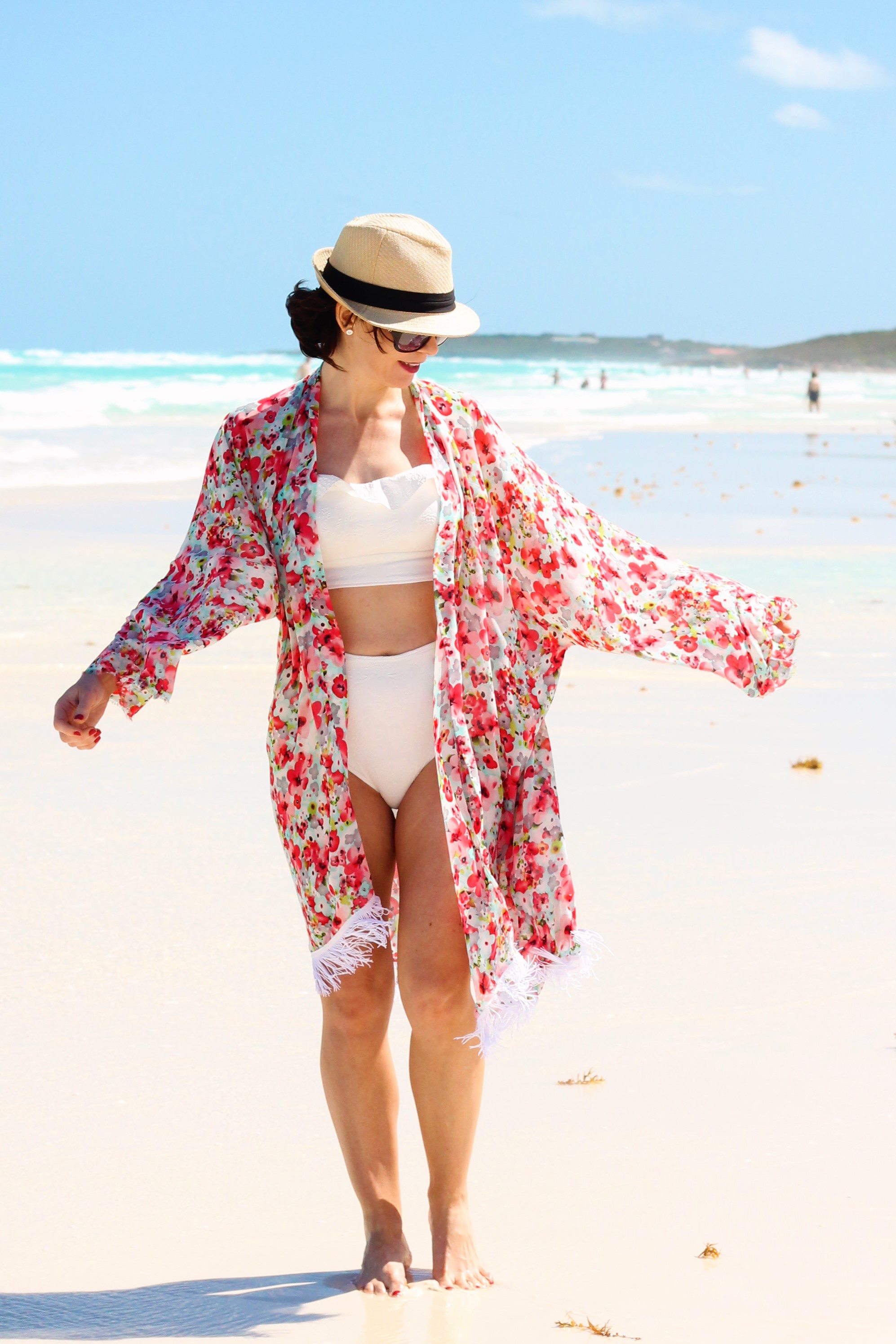 With fair skin, I need a good cover up. I set out to find a pattern and found this easy tutorial. In fact, it was so easy that I made one for each of us for the trip.  I loved the fresh bright colors of this pretty printed chiffon and thought the white fringe would be a cute addition.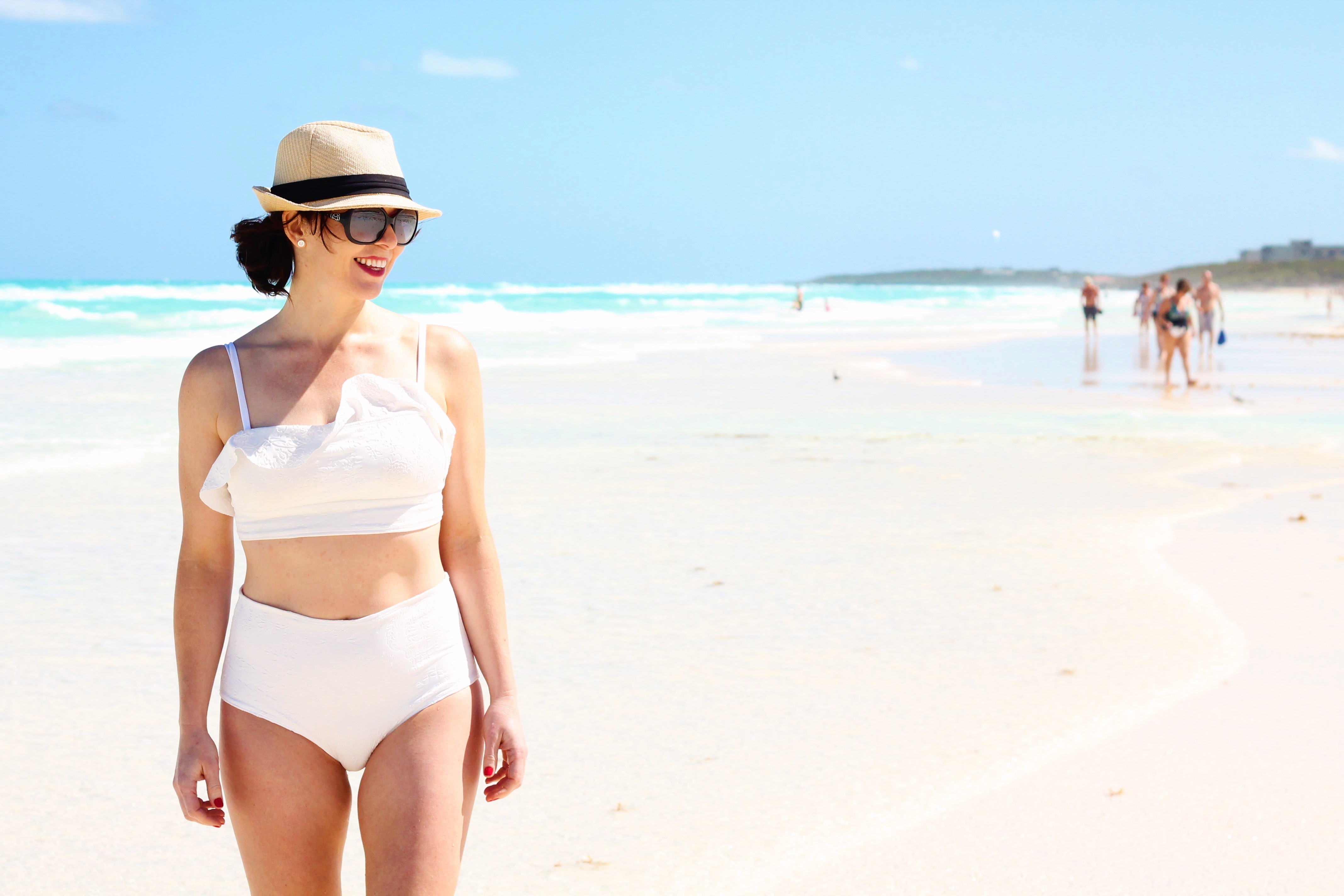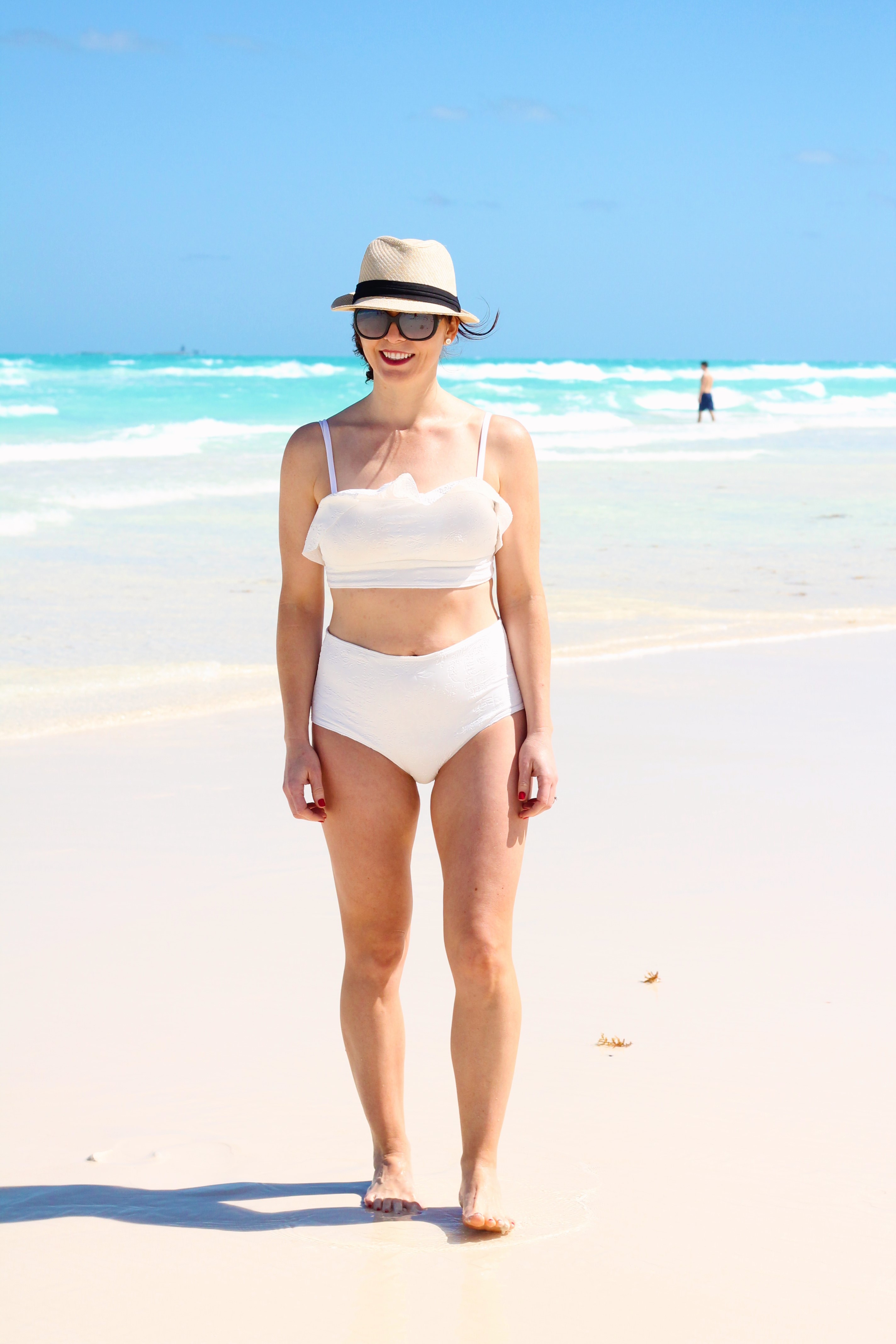 I thought that a white swimsuit would be a pretty pairing with this cover up. The swimsuit fabric is actually an embossed scuba knit. I couldn't resist the pretty pattern and had to try it. I knew this fabric was a risk because it isn't as stable as a good swimsuit spandex so I lined it with a heavy white spandex. It stood up to the water but I think it could use a little elastic in the waist hem for stability. That's what I love about sewing…taking a risk that works out. It could still use some tweaking, but overall, I love the result.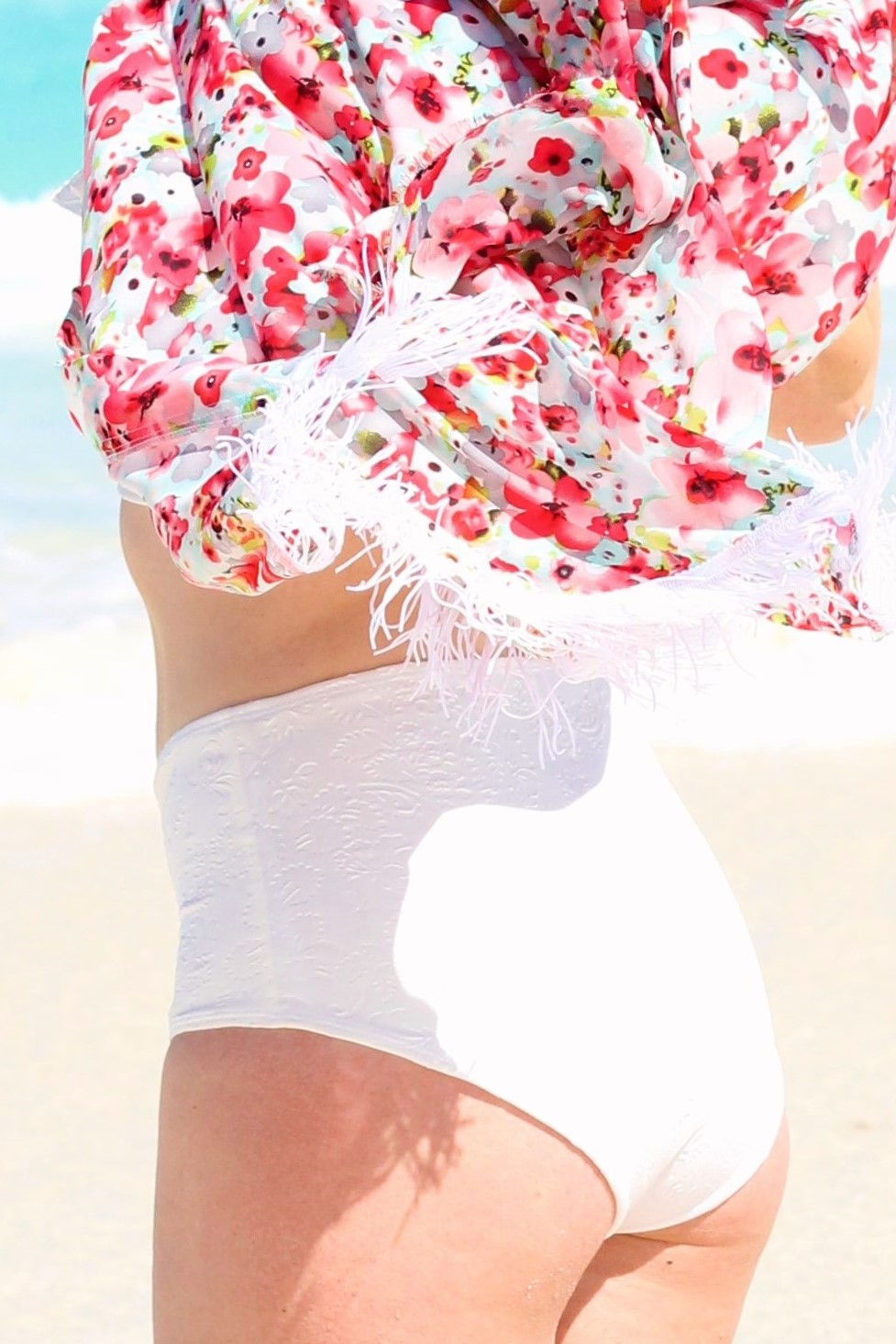 A few years back I drafted a high waisted bikini bottom for myself and it has been my go to choice in swimsuits. It consists of one pattern piece with just sides seams…no uncomfortable crotch seam. Then using my coverstitch machine, I hem the legs and waist. I don't add elastic in the hems and like that they lay flat.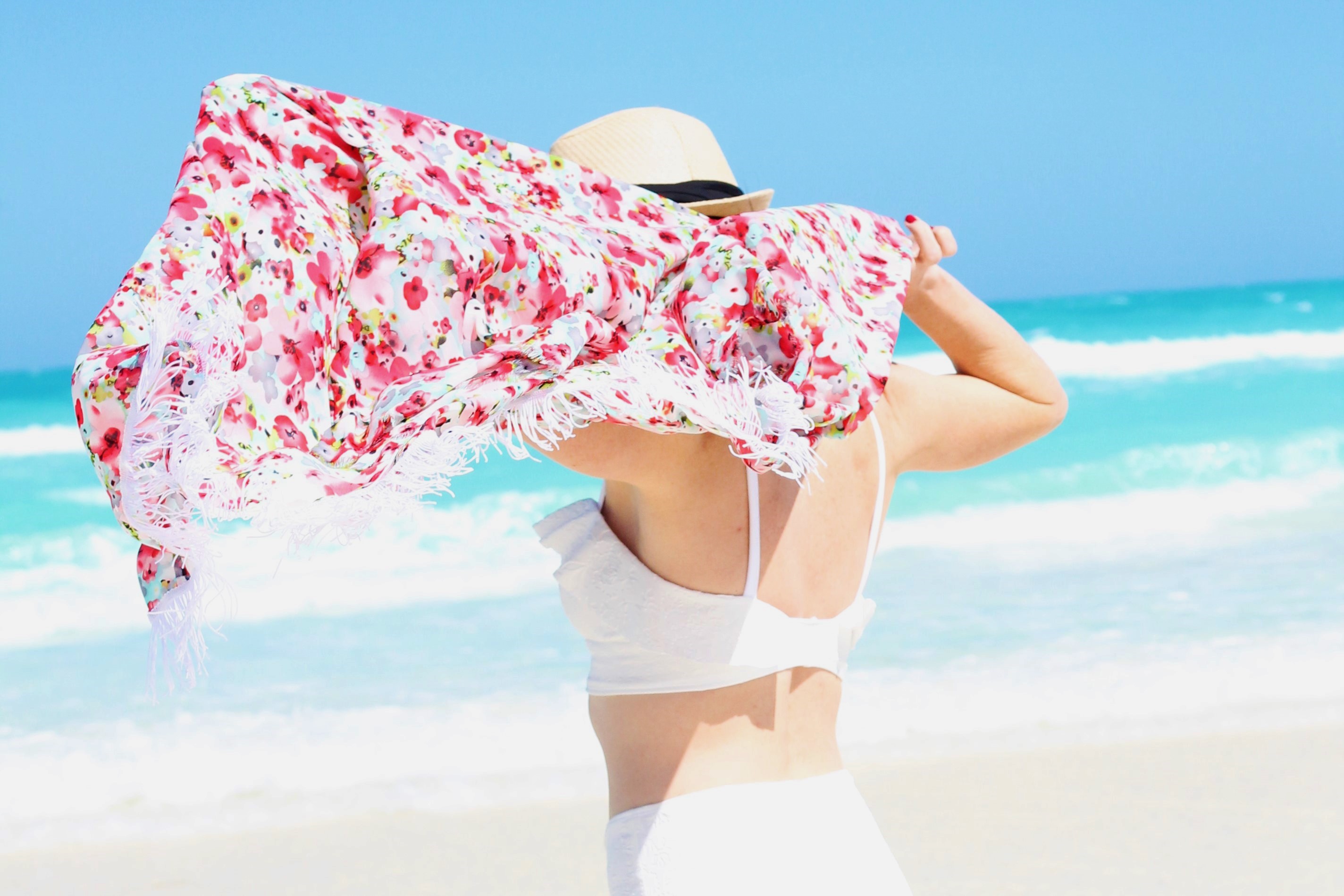 My usual route is to buy a bikini top that I like and then make a bottom to match. This time I decided to try to make the top as well. For the top I used McCalls 7168, the ruffled bandeau. I love the playful ruffle…and felt that it would be comfortable and secure to wear…and it was! The top was pretty easy to put together until I reached the clasp. I didn't have a clasp in my stash! Shame on you stash! I'll let it slide this time since I don't usually make swimwear…but now you know.
With the fabric store closed for holiday, and I was leaving early the next morning, I had to put a seam in the back and hope that I could shimmy myself into it. It worked just fine for the trip but I plan to add the clasp now and make new straps with sliders.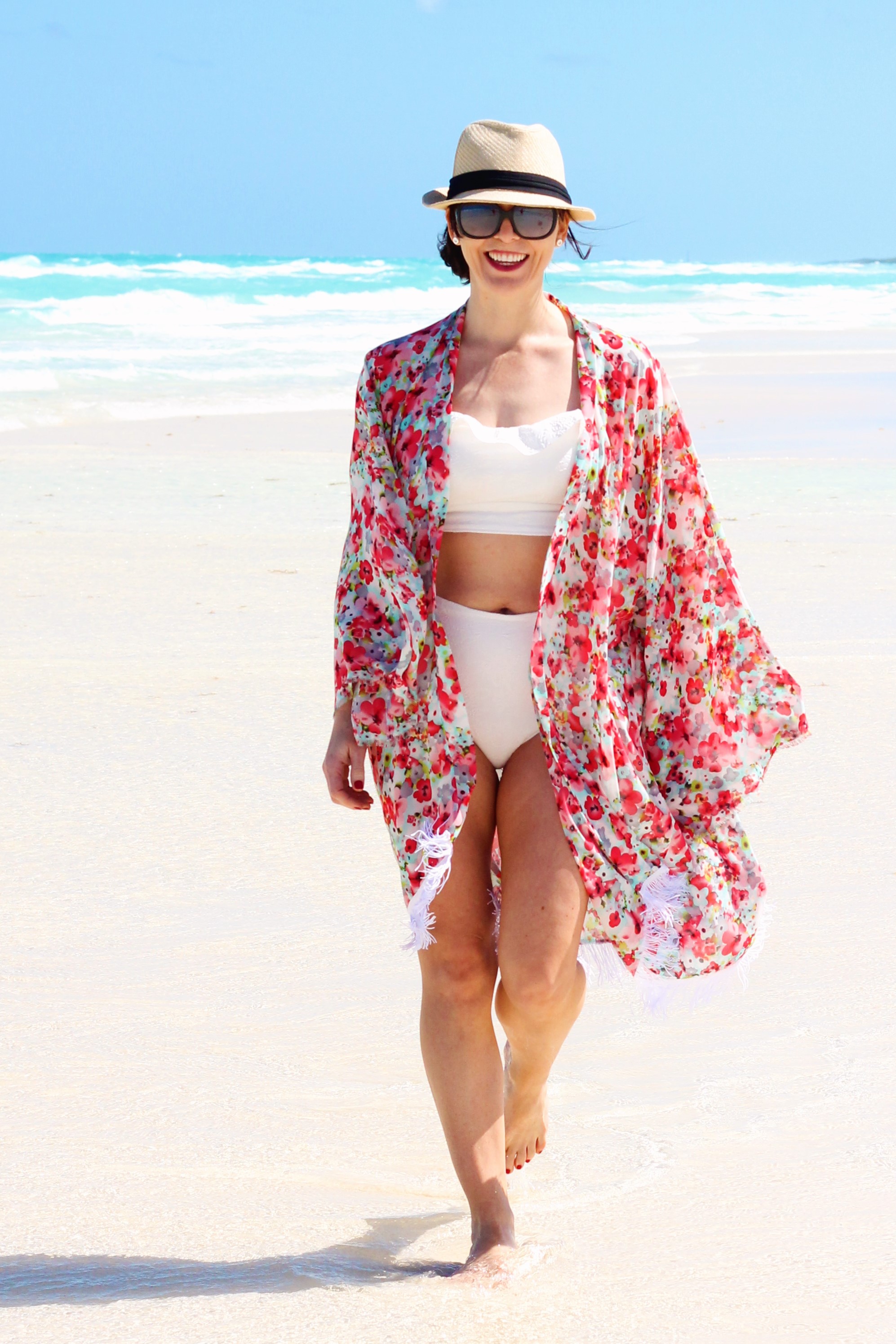 I felt both pretty and well covered in this outfit and look forward to wearing it once summer arrives here in Canada.
I know that many of you are making bras, I'm wondering, would the same principles for bra making work for bathing suit tops?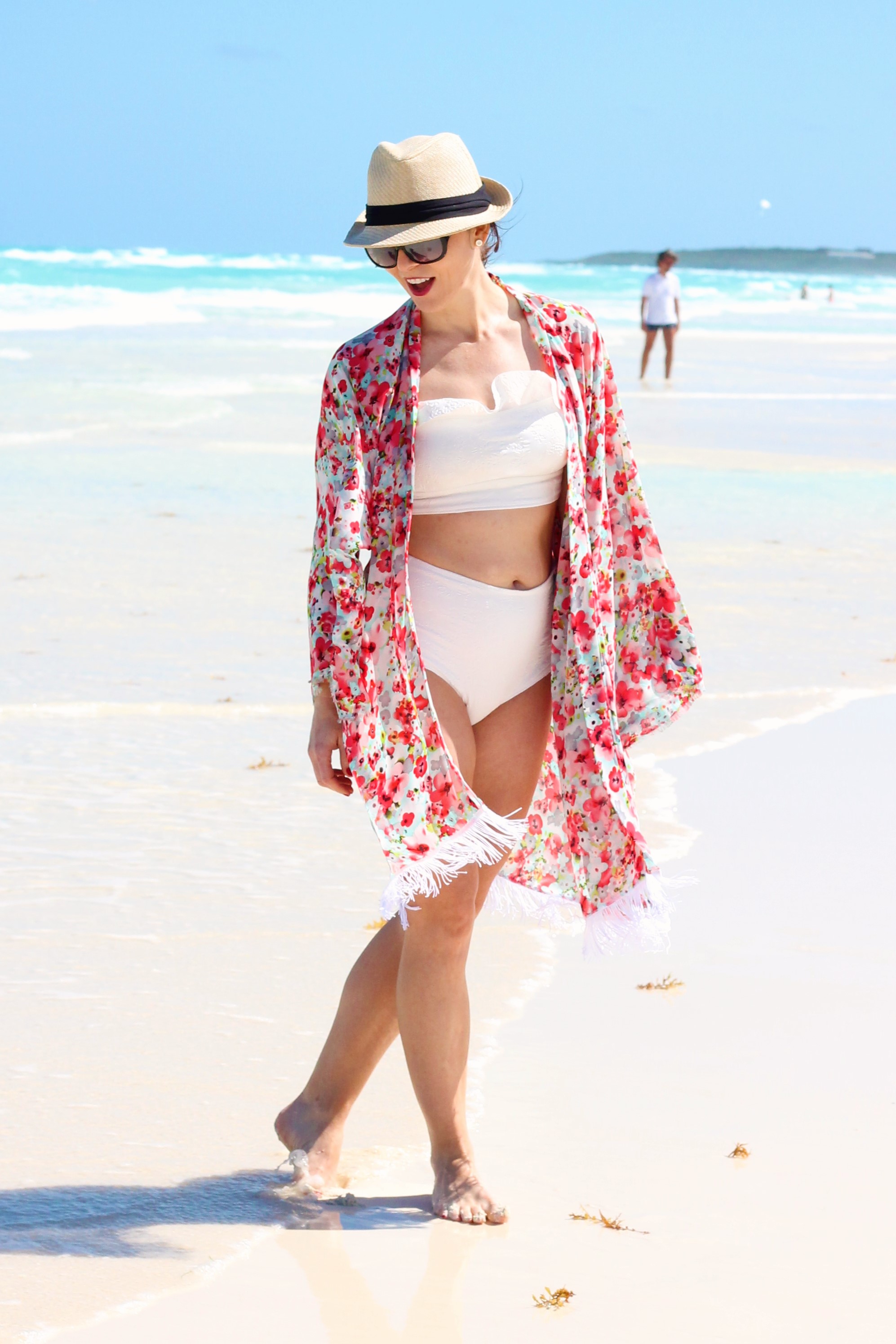 Now…about the move to WordPress and how I did it.
Well, I didn't. I found help.
 Now, I can sew and obviously (or not)…I have fumbled my way through posting on my blog but when it came to making the actual move…yeah no…that was not happening. Some things are better left to those who are better at that thing than me.
Through a good friend, I found Belinda of WiNiTh Website Design. Let me tell you…. she is AWESOME. We haven't met in person and haven't even talked over the phone but working with her was so easy and  effortless…. at least for me it was! ( I didn't have to do all the work!) I sent her links to sites that I liked and she quickly got a sense of what I was looking for in a blog style. And boy did she nail it! Belinda thought of everything, some of which I'm not yet ready for but her ideas are ones I aim to use in the future. Isn't it awesome when you find someone who has a passion for what they do and it is reflected in their work and interactions with others? My friend warned me that I would like this lady's enthusiasm and energy so much that I would want to be her best friend! I'm gonna try not to stalk her with coffee and cookies in hand… no promises though.