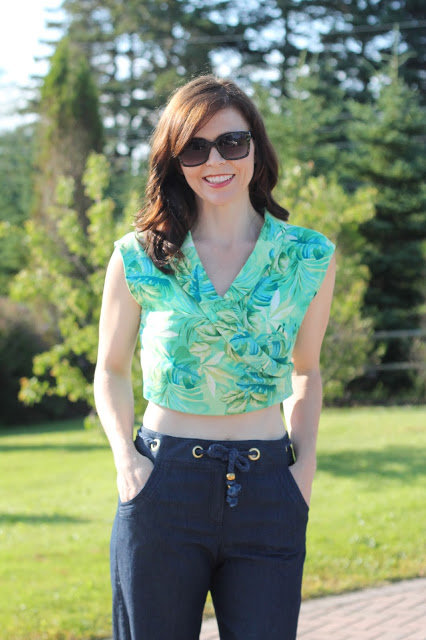 Hey everyone! I'm kinda excited about this post…this little top has pulled me waaaaay out of my comfort zone! I started to make McCall's 7133 top on a whim, knowing that I would also make a VERY high waisted skirt to wear with it to hide the fact that it is a crop top. I just thought that I certainly couldn't pull off a crop top at my age.
So I did just that, made the top and skirt. As you can see in the pictures below….meh…..
Yeah…not really loving it. Too much of this pattern, maybe? In hindsight, I think that a high waisted pencil skirt would have been better. I just find the whole ensemble overwhelming.
Anywaaaays….moving on…
  I thought, why not (for kicks) just try the top with my high waisted nautical jeans. Bam! I was surprised at how much I liked it and what surprised me even more was the confidence I had while wearing it! Who knew!? Another surprise was that my typically conservative hubby preferred the trousers over the skirt. He thought the skirt was too matchy matchy.
well paaardoooon me….call the fashion police
(ok….he was absolutely right!)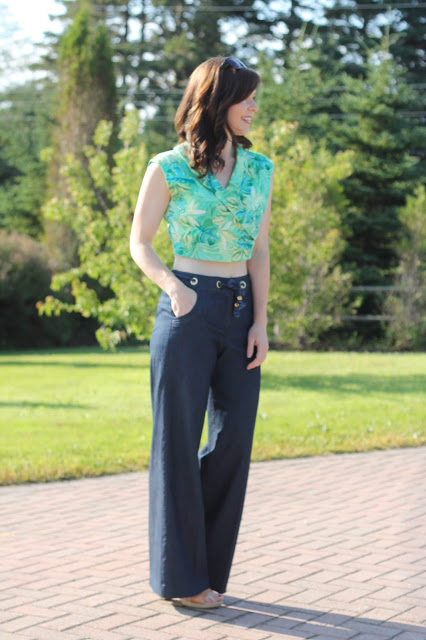 So on to the pattern…. and my review.
Pattern: McCalls 7133
Fabric used: A tropical print cotton sateen.
Instructions: The instructions were great. This is rated as easy and I found that to be true. It isn't lined which was nice for a summer top and much easier to sew.
Changes I made: I removed the center back seam. I keep making this change to my makes lately…I REALLY don't like unnecessary CB seams. I used an invisible zipper in the side seam instead of the back. I can easily pull the top on and off and it just made much more sense to move the zip.
Repeat worthy: Yes! I am already planning a navy blue one!
The skirt is McCalls 6706. Any of you following me for a while, know that I have made this skirt many times before and can head over to
my gallery
to find one and a review for it.
After I tried the jeans, I thought I would try my wide legged, high waisted, off white pants. I think this outfit would be perfect for our next trip south. It has a tropical vibe to it and I can totally see myself wearing it to dinner in a resort setting.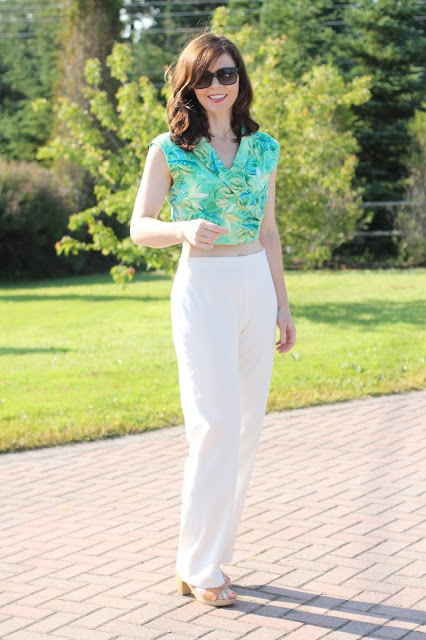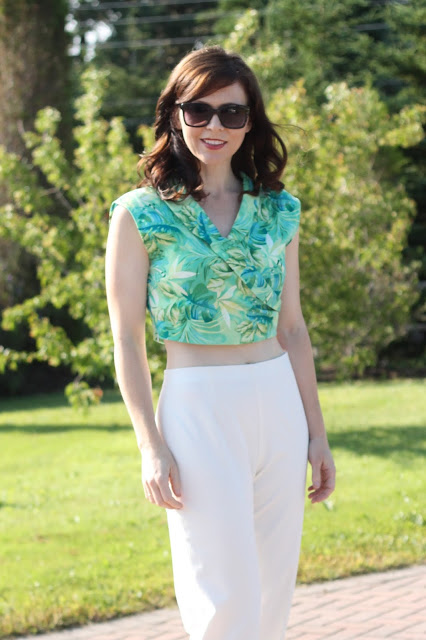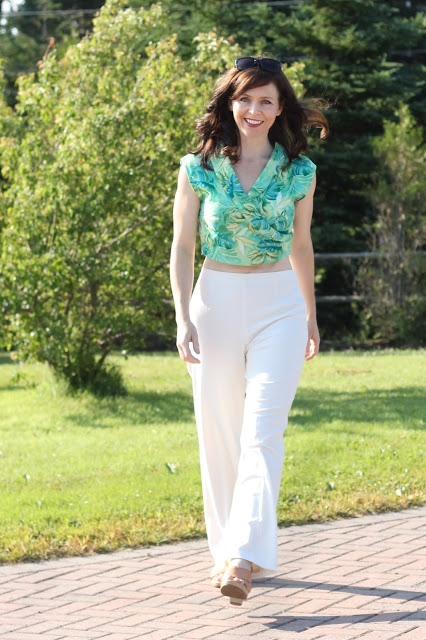 So…may I ask… pants or matchy matchy skirt? What if I remade the skirt into a high waisted pencil skirt? Would that be better than the full skirt?
I like the jeans and hubby likes the white pants. What do you think? I'm also open to more styling ideas if you have any! I'm thinking…my lace
Copy Cat skirt
 or maybe I'll really go all out and pair it with culottes like the pattern! Now we are really stepping outside the comfort zone!What kind of garments would be outside of your comfort zone?